Company Profile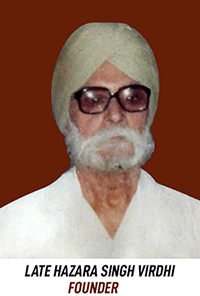 The company founded and incorporated in the year 1949 by Late Hazara Singh Virdhi with his two sons Surender Singh Virdhi and Satnam Singh Virdhi. He started the journey of manufacturing Rice Huller Machine and Screens with a full proof successor plan. Later in his strong leadership with very few employees, the company has reached to a new high. Virdhi Rice Screens Company (Regd No. 220896) has proved itself to be the leading manufacturers and suppliers of Rice Huller Machine & Equipment, Plummer Block, Water Pump and Flour Milling Machine. We have become the most preferred brand of India, by manufacturing the quality products from the material of superior grade. Our technical experts are well versed about the technical changes taking place in the industry and carryout the production process accordingly. In this competitive market the scope for keeping pace with market scenario has also changed constantly and therefore, we have always tried hard to serve the clients in the best possible manner. Our products range includes Huller Screen, Rice Huller, Huller Shaft, Huller Blade & Holder, Water Circulating Pump, Hand Pump, Plummer Block, Flour Milling Machine, Huller Ball Bearing Frame, Huller Center Frame, Rice Huller Cover, Huller Spare Parts, Polisher Screen etc.

Currently the company is being operated by Mr. Amrit Pal Singh and Subhneet Singh.

Mr. Amritpal Singh the CEO possesses excellent leadership quality and guides the team efficiently, in a positive direction. He is well aware of the factors that can help the company grow moving on a right path. Apart from this he also works hard to enhance the morale of team and follow those measures accordingly.    

We own a state-of-the-art infrastructure having all requisite facilities, which are needed to make the production smooth and hassle-free. Our infrastructure is divided into varied departments such as administrative, quality control, production, R&D, warehouse and others. We ensure that these departments work in synchronization with each other, ensuring timely completion of assigned tasks and predetermined organizational objectives. The segregation of infrastructure has enabled us to carry varied tasks in systematic and organized manner.

Team of skilled, trained and experienced professionals is working with us, which help us to serve the dynamic customer's demands in an appropriate manner. Our team encompasses quality controllers, production personnel, administrative heads, R&D experts and other skilled and semi-skilled staffs. Training program, exhibitions and seminars are conducted by us, in order to keep our team abreast of the changes taking place in the industry, which enables them to serve the clients in an efficient manner.

Being the customer-oriented organization, we always endeavor to serve our clients in prominent and desirable manner. We ensures timely deliveries, offer customized solutions and accept payment via easy options, keeping in mind the customer's ease and convenience. We welcome the suggestions of clients and ensure prompt response to their queries. All these factors together have paved the way of our success.
Infrastructural Facilities
For growth and well being of an organization infrastructure is the prior requirement. Its presence not only allows the team to work well but also enhances their abilities to meet the objectives and goals of the organization. We too have a state-of-the-art infrastructure available with us having installation of all latest machines and equipment to ensure a fast paced and streamlined production. The segmentation of the infrastructure into small departments leaded by their respective heads has smoothened the complete process and functioning of the organization. All these factors have finally helped us in sufficing the clients' demands with exactness.
Our infrastructure comprises:
Quality testing unit
Manufacturing-unit
Marketing and sales department
Research and development 
Why Us?
Our expertise in serving the clients in an appropriate manner has enabled us to win their trust. Our customer-friendly policies have kept us ahead of our competitors' despites severe competition. We have been able to carve a distinct niche in the industry with the help and support of our clients.
Reason behind our success is as follows:
Reasonable prices
Timely deliveries
Well-connected warehouse
Fair and ethical business policies
Experienced staff
State-of-the-art manufacturing unit
Strict quality control measures